THE FUTURE OF PRESSING TECHNOLOGY
The enFORCE's integrated load cell and resolver provide highly accurate closed-loop control of the assembly process. Built-in programmable check zones allow in-process inspection and stop the cycle before out-of-spec parts are produced, reducing scrap. Press methods include pressing to a force, distance, rate increase and decrease, relative distance and more. Programming every aspect of the press' movement throughout the cycle couldn't be simpler with our easy-to-understand picture-based parameter setup screens.
PRODUCT FEATURES
1. PRODUCTIVITY

Wide force and speed range to tackle any pressing application
'On-the-fly' parameter selection allows multiple models to be run using different target load/distance set points
In-process inspection of the pressing process to detect abnormalities and stop the cycle
Controllers store up to 10,000 cycles of pressing data
2. FLEXIBILITY

Configure as a stand-alone system or add a main unit to provide sequencing capabilities and allow control/communication through virtually any available fieldbus
Easy-to-use picture-based software allows part setup and data monitoring/collection with very little training
Every part of the press movement is programmable
3. ACCURACY

Permanent magnet motor/resolver and built-in high resolution load cell provide accurate control of both force and distance
Embedded 'Smart ID' chip allows automatic calibration and zero level checks to be performed each cycle
4. ENVIRONMENTALLY FRIENDLY

Low energy consumption
Reduces energy, noise, heat, maintenance and space requirements
Eliminates the costs associated with the handling, storage, clean up and disposal of potentially hazardous fluids (oil)
INDUSTRY APPLICATIONS
AUTOMOTIVE
With the wide range of available press capacities, enFORCE Servo Presses are the perfect solution for numerous automotive assembly and fabrication applications, including but not limited to:
Bearing press
Bushing press
Freeze plugs
Wheel studs
Dowels
Brake calipers
Fuel injector insertion
Cradle press
ELECTRONICS
The wide range of speed settings and the ability to press at rated loads for unlimited time make enFORCE Servo Presses suited for a wide range of electronic components for manufacturing and assembly. Including but not limited to:
IC Chip bonding
Lenses
Motor housing clinching
Keypad blanking
IC lead forming
Contact insertion
TESTING
The high force/distance accuracy and the available push-pull functionality allow enFORCE Servo Presses to be used for many testing situations:
Destructive weld testing
Fatigue testing
Spring durability
Compression testing
Connector insertion testing
Material capacity testing
TOOL STYLES
SLIM LINE SERIES SERVO PRESS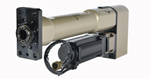 The Slim Line Series is designed for close center-to-center pressing applications where presses must be mounted next to each other or a smaller footprint is required.
---
MINI SERIES SERVO PRESS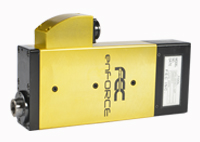 The Mini Series is designed for low force applications where complete press process control and data collection is required.
---
DPT SERIES SERVO PRESS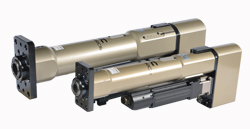 Fitting presses are required for applications with a holding time of 1 second or less.
---

Enforce Servo Presses use only 1 - 3% of the electric power of standard hydraulic presses!!
---